"Touchdowns for Hope": The Montgomery Village 8U Football Team's Inspiring Journey to #BEATCANCER
Category: EpiSwitch®
Read Time: 5 Minutes
Last updated: 27 October 2023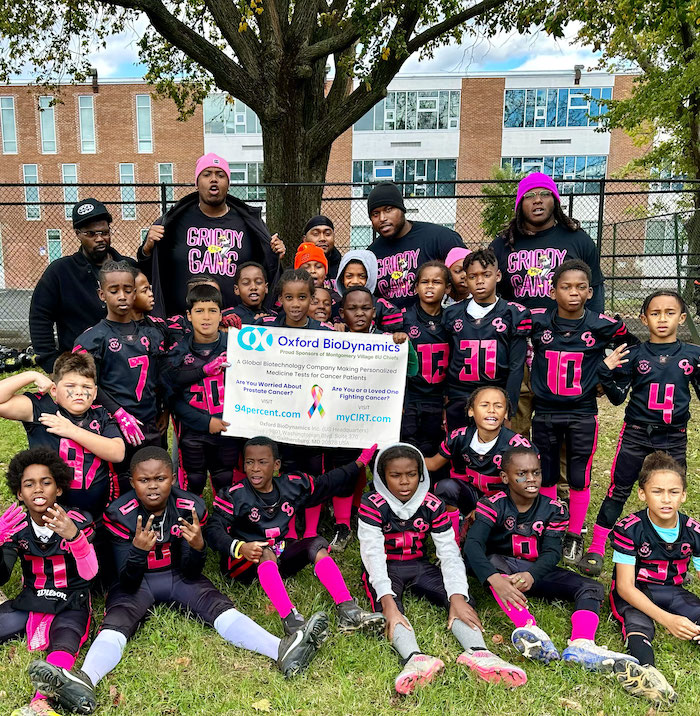 In October, we focus on Breast Cancer Awareness Month, where communities join hands to support and raise awareness about breast cancer. Today, we're sharing a touching story that embodies unity, hope, and the fight to #BEATCANCER. Meet the Montgomery Village 8U football team, a group of young players with jerseys carrying a message of strength and determination.
While they may be fierce competitors on the field, they are even stronger advocates for accessible cancer care. Their story serves as a reminder that the power of sports can extend far beyond the scoreboard, uniting communities in supporting a cause that touches us all – the fight against cancer.
The Montgomery Village Chiefs are a renowned youth football organization that has produced current NFL superstars like Bills WR Stefon Diggs, Vikings WR Jordan Addison, Falcons DT Derrick Tangelo and Cowboys CB Trevon Diggs. The Chiefs are a mainstay force in the Washington DC area's largest tackle football program, which plays all its games in the highly competitive Capital Beltway League. This season, the coaches of the 8U Chiefs wanted to put their success and notoriety to good use by dedicating their season to a cause bigger than football – the full support of patients and families dealing with cancer.
OBD employee and a proud parent of a Chief's player, Joe Abdo was inspired to synergize the team's mission with the work our company does for cancer patients. "To have the Oxford BioDynamics logo on a jersey that represents cancer awareness and aims to bridge the clinical gaps in cancer care due to racial and economic disparities means a lot to us at Oxford BioDynamics. It is a sponsorship opportunity that not only supports our local children in Gaithersburg, home of our US headquarters, but also aligns with our company mission of bringing personalized medicine tests for all Americans dealing with or being screened for cancer."
Why Accessible Cancer Care Matters
Accessible cancer care is not just about convenience; it's about saving lives. Breaking down barriers to timely diagnosis, good treatment, and support is critical, especially for those living in underserved areas. At the beginning of the month, the coaches of the MV Chiefs team sent out a memo to all families highlighting the disparities in cancer care among African American populations.
African Americans have a higher cancer burden and face greater obstacles to cancer prevention, detection, treatment, and survival. In fact, Black people have the highest death rate and shortest survival of any racial/ethnic group for most cancers in the United States. Research has shown that:
African Americans experience more illness, worse outcomes, and premature death compared to other racial/ethnic groups in the US.
African Americans have the highest death rate of any racial/ethnic group for most cancers.
African Americans have the shortest survival of any racial/ethnic group for most cancers.
African American men have the highest cancer incidence.
A Team with Heart: The Youth Football Squad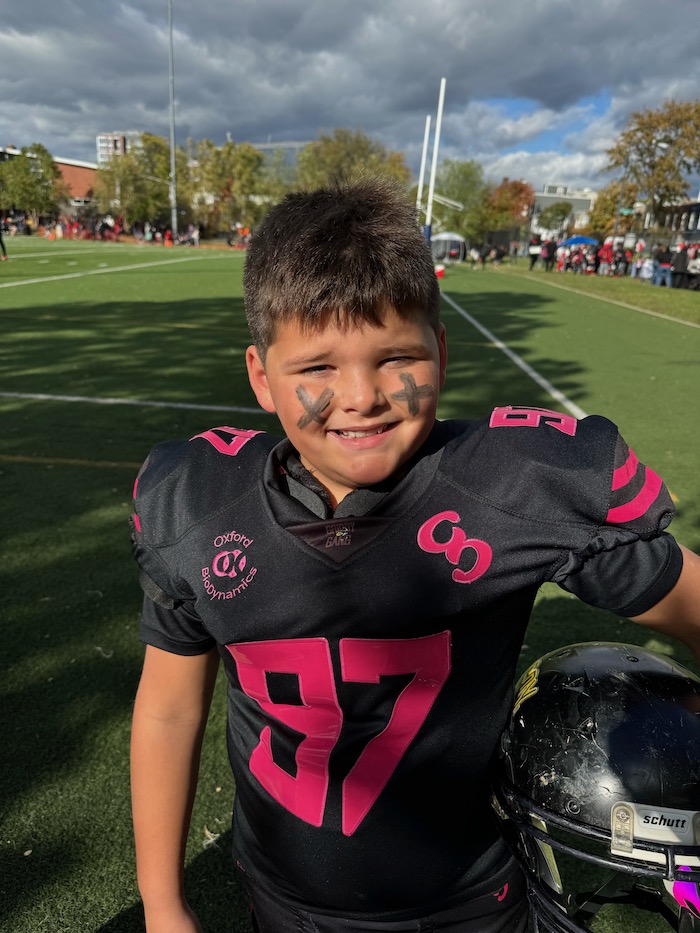 Chief's lineman, Winston, with Oxford BioDynamics logo on right breast plate.
The Montgomery Village 8U football team isn't just about football. They also passionately support accessible cancer care. With help from Oxford BioDynamics, they wear jerseys that proudly show their commitment to raising awareness and support.
The 8U MV Chiefs are lead by headcoach Trae Addison, who was born and raised in Montgomery County, Maryland. Coach Addison has a staff of four coaches: lineman coordinator Kiven Williams, Offenseive Coordinator Shak Smith, Defensive Coordinator Malachi Crews and assistant coach George Augustine.
In the past decade, the Chief's organization has had a massive track record of success, having won many games and advancing to national youth championships in New York and Florida. The organization consistantly turns out players who go on to have robust college and professional careers in football.
Off the field, the team is constantly focused on providing education on concussions, school work strategies, and physical health habits such as low sugar diets and improved sleep hygene. This year however, cancer awareness and early detection became the key message for the players and parents of this organization. This mission piqued the interest of Oxford BioDynamics to step in and support this great group of student-athletes and help create a louder sounding board around their season's dedication to tackle cancer.
Coach Kiven Williams' Personal Journey
Behind this team's commitment is Coach Kiven Williams, who has experienced firsthand the pain of cancer's effect on family and loved ones: "I lost my father and grandfather to prostate cancer recently.
The most important lesson I learned observing both of their cancer journeys was to never give up and always keep fighting no matter the odds.
Now that I'm coaching for Montgomery Village 8U, it allows me to teach my players the lesson I learned without them having to feel the loss or pain of losing someone to cancer. I know my father would be proud of these boys on how tough they are when facing adversity. #BEATCANCER"
– Coach Kiven Williams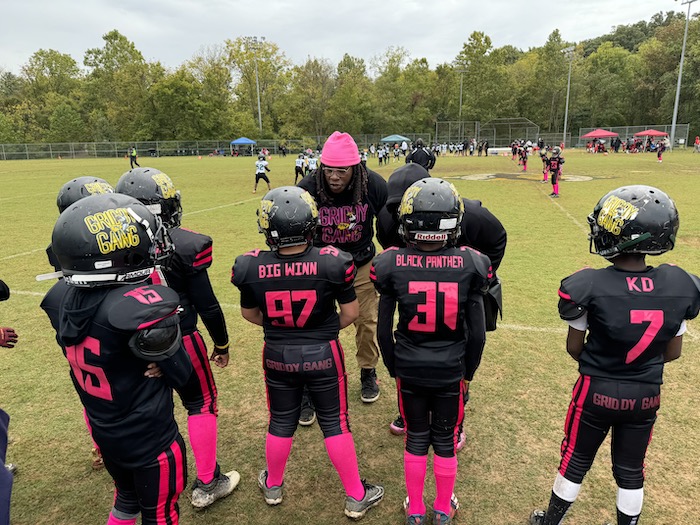 Coach Williams prepping the defensive line.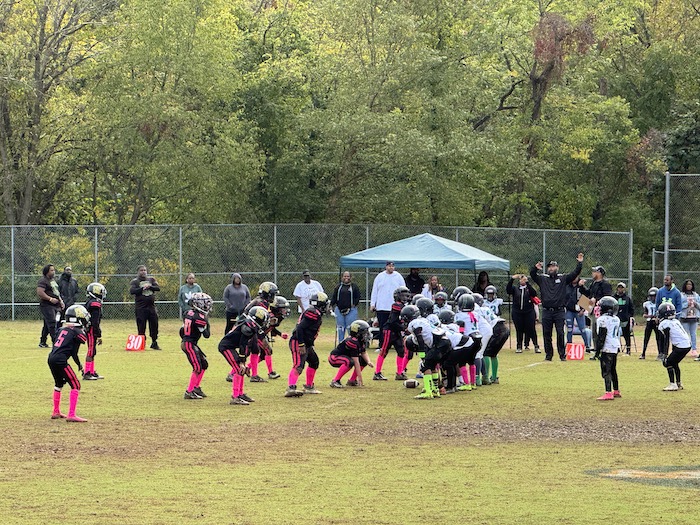 The Chiefs (in black and pink) on defense.
Spreading Cancer Awareness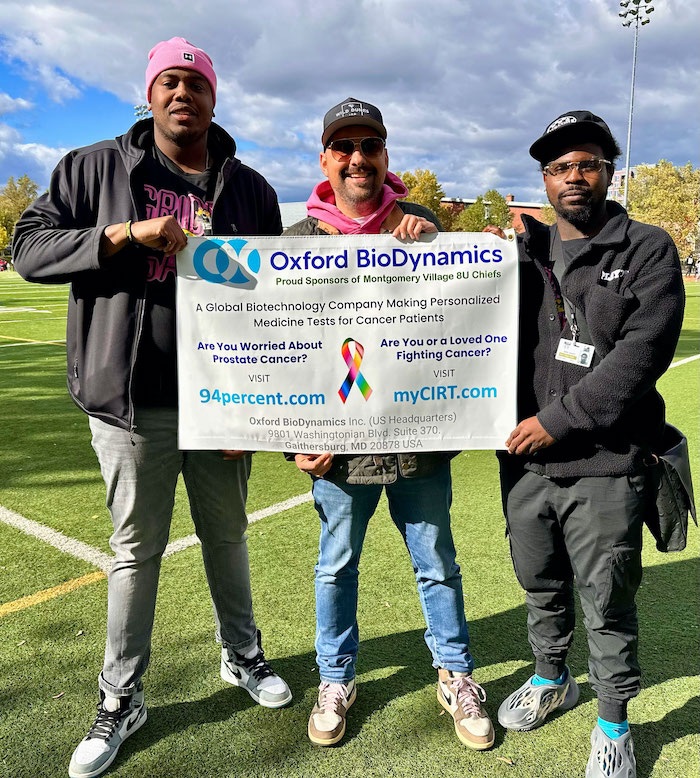 MV Chiefs' Head Coach Trae Addison (left) and Offensive Coordinator Shak Smith (right) with OBD Vice President, Joe Abdo before kickoff.
The team, with support from Oxford BioDynamics, actively promotes cancer awareness by providing messaging, health information and wearing new uniforms adorning the colors of breast cancer awareness at home and away games around the Washington DC area. All five coaches have had cancer affect their families and so utilizing their platform and access to the youth of our community inspired them to dedicate their season to cancer awareness with an emphasis on early detection and screening. "Prostate cancer death rates in Black men are more than double those of every other racial/ethnic group," said OBD Vice President of Clinical Diagnostics, Dr. Joe Abdo. "My company just launched a test with high accuracy in the early detection of prostate cancer – EpiSwitch® Prostate Screening (PSE) Blood Test. So, it is important to me that our community is made aware of our precision oncology tests that were designed to tackle some of the toughest challenges in anticancer care."
"Prostate cancer death rates in Black men are more than double those of every other racial/ethnic group," said OBD Vice President of Clinical Diagnostics, Dr. Joe Abdo
Oxford BioDynamics: Helping Cancer Patients
Oxford BioDynamics (OBD) is dedicated to helping cancer patients on their treatment journey. We offer various services and support to make this journey easier. If you or a loved one are currently fighting cancer, please see our website myCiRT.com or if you or a loved one are worried about prostate cancer, please see how we can help at 94percent.com. To learn about other work we are doing in the oncology and diagnostic space, please visit our general company website at myOBDX.com or check out our previous blog post, "How EpiSwitch blood markers advance precision medicine and cancer care"
During Breast Cancer Awareness Month, join us in supporting the Montgomery Village 8U football team's mission and the wider fight against cancer. Please consider supporting organizations dedicated to advancing cancer research and providing care to those in need – check out some reputable organizations listed below. Let's stand together against cancer and work towards a future filled with hope and healing.
Share this blog post on social media to spread the message. Together, we can make a real impact and strive to #BEATCANCER.
The Montgomery Villages Chiefs next game is at FedEx Field on November 2, 2023, where they will be playing the Baltimore Bearcats in the NFL's 68,000-person stadium. Kickoff is at 7pm, and the Chiefs will be wearing their cancer awareness jerseys on the big stage. Good luck to the players and coaches of the Chiefs for the rest of the season and beyond!
Cancer Support and Awareness Organizations
African American Breast Cancer Alliance: Raises awareness in Black American communities, with collaborative networking and providing resources and support for African American women and men impacted by breast cancer.
ZERO Prostate Cancer: ZERO Prostate Cancer is the leading national nonprofit with the mission to end prostate cancer. ZERO advances research support and creates solutions to meet the most critical needs of prostate cancer patients and their families.
American Cancer Society (ACS): The ACS provides a wide range of support services, including patient transportation, lodging assistance, and a 24/7 helpline. ACS works to improve the lives of people with cancer and their families through advocacy, research, and patient support.
Prostate Health Education Network (PHEN): PHEN's mission is to eliminate the African American prostate cancer disparity, and to increase the overall support and resources for a war on prostate cancer that will lead to a cure for the disease for the benefit of all men.
Stay In the Loop
Subscribe to receive our latest blog posts
Topics from groundbreaking discoveries to cutting-edge advancements and industry trends.
Related Posts
09 November 2023 • 5 Minutes
A first-of-its-kind blood test to provide guidance on navigating the toughest challenges associated with use of an essential, widely-used class of cancer therapies: Immune Checkpoint Inhibitors.
Now every patient can benefit from the world's first test to predict how a patient will respond to immune checkpoint inhibitor therapy with high accuracy.
Learn About CiRT